Q:  Can you tell us a little bit about your background before coming to ArenaNet? 
Naomi: I went to Virginia Commonwealth University in Richmond, Virginia, a few years before moving to Los Angeles. There I took classes at Gnomon and Concept Design Academy while working at Activision in Santa Monica—my first gig in the industry.
At Activision, I did a little bit of everything: concept, texture, ZBrush, and storyboarding. It was a tough few years, but a huge learning experience. After I left Activision, I freelanced for a year doing storyboarding, illustration, and concept for several companies. During that time, I was introduced to commercial, movie, and cinematic work in a wide range of game genres. I also got to branch out a bit beyond gaming and met some amazing people. Thankfully, it's been a constant stream of work and new things to learn and experience.
While I was at Activision, I worked on Ultimate Marvel Alliance 2, Call of Duty: Black Ops, DJ Hero, and the latest Spyro title. While freelancing, I worked on the commercial/marketing aspects through storyboarding and some illustration on the new Twisted Metal, Wii Go Vacation, PlayStation Vita, Resistance 3, and some others. I worked on trading cards for Blizzard, character exploration for marketing at BLTomato on The Great and Powerful Oz 2013, and lots more. It's been an adventure!
Q:  Your figure work is really strong; it seems sleek, but also explores angles and edges. Do you find yourself primarily drawn to characters and figures rather than environment work?
Naomi: I am drawn to characters and figures. While I was in Los Angeles, I constantly drew in coffee shops and could be found in different figure drawing sessions in Los Angeles two or three times a week. Now that I've moved to beautiful Washington State, I am drawn to my surroundings more!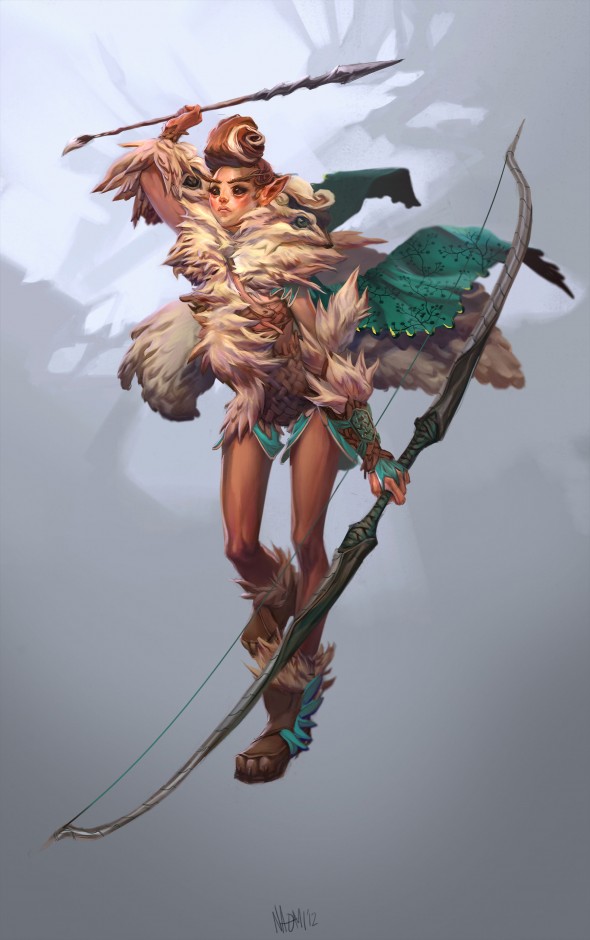 Q:  What are some of your main artistic or aesthetic influences?
Naomi: Definitely old illustrators' construction and draftsmanship. I've always liked the aesthetic of this old German publication called Simplicissimus because of its strong graphic look, but also good drawing. And then there are Sargent and Layendecker, artists who explain things perfectly in a few strokes of paint—like a boss!
Q: What was it that drew you to ArenaNet?
Naomi: To be honest, ArenaNet seemed like another planet because of the talent and work that has come from it in the past. I also absolutely love the genre! When Daniel contacted me about working here, it was a resounding yes. The team here is so strong yet so diverse, and I am looking forward to the opportunity to just make awesome creative works.