"There's a chill in the air and a bump in the night.
It's the season of ghosts and sensational frights.

Go carve a spooky pumpkin; get lost in a maze.
Ascend into madness—join the Halloween craze!

A clock tower to climb and candy corn to acquire.
When Mad King Thorn says, you'd best heed his desires!"
That's right: the Shadow of the Mad King festival begins today! This year, we have many ghoulish goodies to seek out and a brand-new mode for the Mad King's Clock Tower. You'll have three thrilling weeks (until November 7) to participate in the festivities and gobble up as much candy corn as you can stomach. Let's dive into the details, shall we?
New for 2023!
A new variant of the long-feared Mad King's Clock Tower jumping puzzle has appeared! Normally unavailable to visitors during maintenance, the Stopped Clock Tower is now open to guests looking for a more leisurely incarnation of the tower's daunting climb. Existing achievements have been updated to reflect which version of the clock tower they can be completed in, and new achievements have been added for you to conquer each variant.
The Wizard's Vault has new special objectives directing you toward all sorts of Halloween activities. Earn that astral acclaim and collect your rewards!
Atop the Stopped Clock Tower is a mysterious craftsraven who will help you craft four makeshift Paper Bag Helm Skins. Be the talk of the costume party with these emotive headpieces. Keep reading below for more fang-tastic seasonal goodies.
Where to Go
First, check your in-game mail for a letter from Magister Tassi containing an Invitation to the Mad Realm. Use this item to travel back and forth between Tyria and the Mad King's Labyrinth.
Lion's Arch is Tyria's Halloween celebration headquarters. Asura gate portals to Lion's Arch are available in major cities and can be used by any player who has purchased a Guild Wars 2 expansion or is at least level 35.
Players without access to Lion's Arch can travel to the Mad Realm from the Village of Shaemoor in Queensdale, the Village of Smokestead in Plains of Ashford, Snowlord's Gate in Wayfarer Foothills, the Village of Astorea in Caledon Forest, and Soren Draa in Metrica Province. These locations are outside each starting city's main gate. Run to the candy corn icon on your map and speak to a Lunatic Boatmaster guarding a haunted door, and they'll whisk you away to your choice of eerie activities.
Haunted doors will also appear in Kessex Hills and Gendarran Fields throughout the event. Interact with the doors to trick-or-treat!
What to Do
During Halloween, King Oswald Thorn's capricious spirit can manifest in Tyria—and Tyria's citizens can cross into Thorn's Mad Realm.
Lion's Arch
The city of Lion's Arch is transformed with scary decorations and a gloomy autumn glow! Every two hours, Mad King Thorn will gather his "subjects" (anyone within shouting distance) to play a game. Perform the emotes he commands you to—but only if he calls out, "Your Mad King says." If you do well, you'll receive keys to unlock the Mad King's Chest.
The Grand Piazza also features seasonal vendors and doors to Shadow of the Mad King activities.
The Mad Realm
Mad King's Labyrinth
Battle hordes of Halloween creatures, race your mounts, and trick-or-treat at haunted doors through the twists and turns of a macabre maze. It's a great way to gain experience for your characters and Trick-or-Treat Bags full of goodies, especially if you team up with other players to explore. Stay on your toes, though—powerful enemies like the Grand High Viscount of Candy Corn, the legendary Skeletal Lich, and the Labyrinthine Horror will make nougat of the unwary.
Mad King's Clock Tower
Hop to the top of a vicious timed jumping puzzle before the deadly miasma below makes its way to you. As mentioned above, there's also a new Stopped Clock Tower variant to explore!
Ascent to Madness
Face Mad King Thorn himself! This dungeon encounter is intended for players of all skill levels and can be entered from Lion's Arch.
Mad King's Raceway
Take your mounts out for a spin in time trials and races against other players. Springer, jackal, and roller beetle rentals are available if you need a steed.
Minigames
Speak to a Lunatic Boatmaster to participate in Reaper's Rumble or Lunatic Inquisition.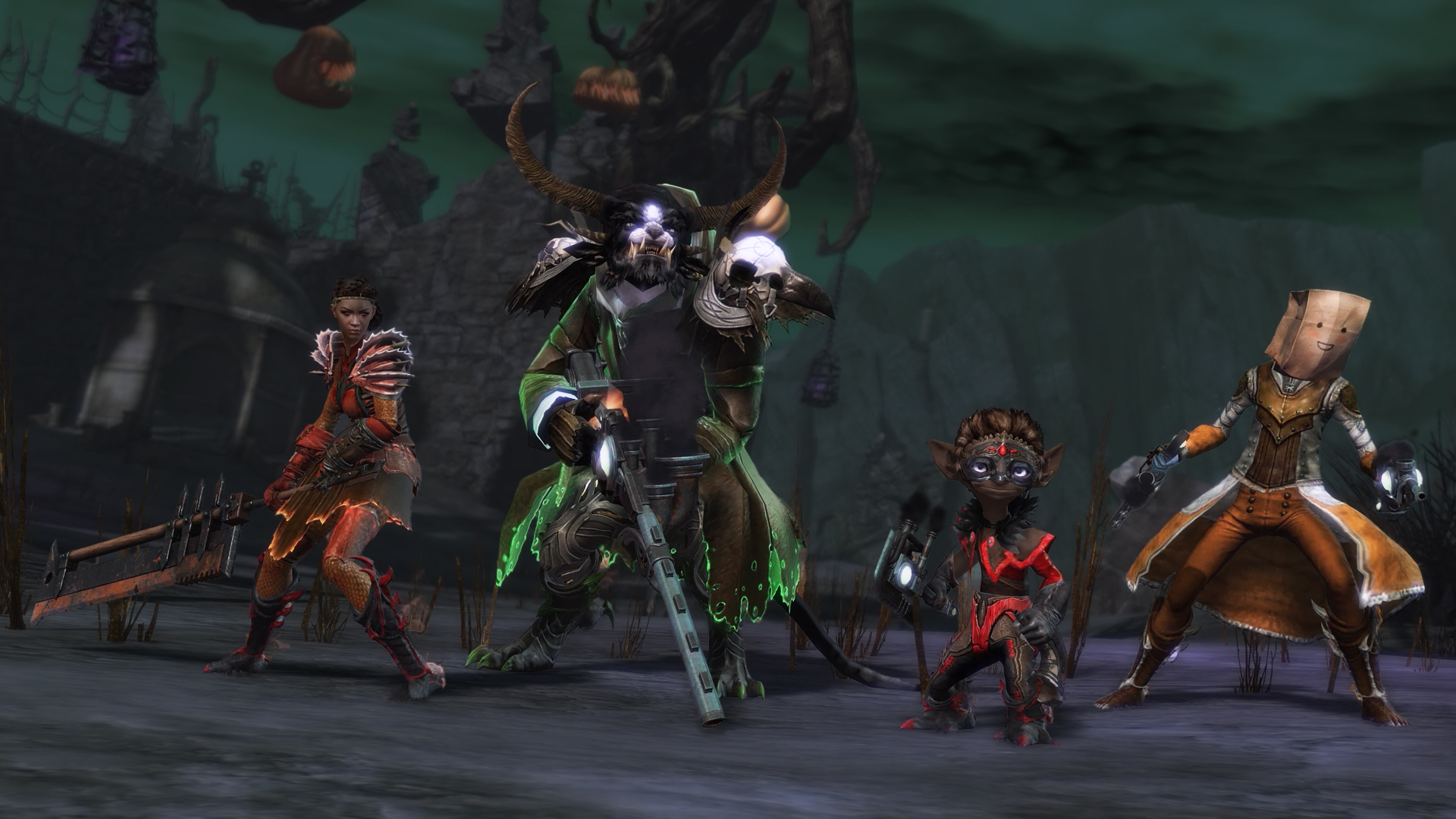 Rewards
Shadow of the Mad King activities award Trick-or-Treat Bags containing a vast selection of Halloween goods. The primary currency is candy corn, which can be traded to special vendors for minis, armor skins, recipes, and more.
Many unique rewards are obtained by completing achievements. You'll find information on the Shadow of the Mad King achievements and their rewards in your Hero panel under the Daily and Festivals categories.
New Armor, Weapons, and Decorations—Oh My!
If smoky and spiky is your style, complete the annual Halloween Rituals achievement to obtain the Clawing Shadow Greaves. If you missed last year's matching Clawing Shadow Gloves, fear not! You can find them for purchase from candy corn cob vendors.
You'll also earn your choice of weapons from the new Grim Machine set for completing the same annual Halloween Ritual achievement or the Weekly Halloween Festivities achievement. Collect them and let off some steam!
Be cautious when opening your Trick-or-Treat Bags, as three horrifying new weapons have been added to the Courtly Weapon Chests. The Sanctioned Executioner greatsword, Guided Executioner longbow, and Heralded Executioner warhorn can also be purchased from Sparking Stone in Lion's Arch.
There are also new Halloween-themed guild decorations, the Paper Bag Helm Skins mentioned above, and the long-awaited Mini Derlitz the Candy Raven!
We hope everyone has a bewitching Halloween season, and be sure to share your spookiest moments with us!
Check out the full release notes on the Guild Wars 2 forums.