We've partnered up with players to showcase their creative Guild Wars 2-inspired content on the official Guild Wars 2 Twitch channel. Read on for this week's scheduled programming!
Streams for the Week of 2 July
Wednesday, 4 July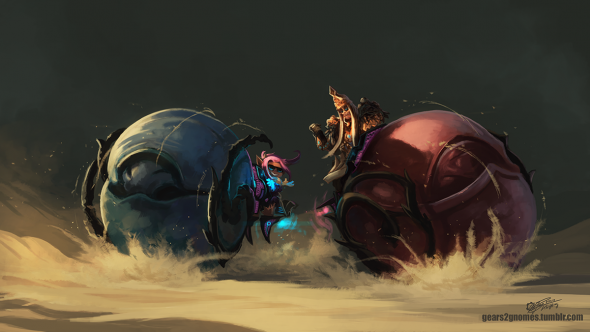 The Guild Wars 2 Art Show (by Gears2Gnomes)(English)
7:00 PM UTC (noon Pacific Time)
Rolling, rolling, rolling—the stream will be about roller beetle artwork tonight! You can also find all the previously created artworks on the Guild Wars 2 Art Show Flickr Album.
Thursday, 5 July
Guildnews Podcast 250 (by Sputti) (German)
Watch live at Guildnews.
5:00 PM UTC (10:00 AM Pacific Time)
Anniversary edition with sweepstakes, "style-a-Sputti" and more.
ArenaNet Livestream: Let's Play Guild Wars 2 World vs World (English)
9:30 PM UTC (2:30 PM Pacific Time)
Join the World vs. World development team in the Mists for their weekly stream.
Friday, 6 July
ArenaNet Livestream: Deepstone Fractal on Guild Chat (English)
7:00 PM UTC (noon Pacific Time)
Join host Rubi Bayer and developer guests Jason Reynolds, Ben Arnold, Alex Kain, Elijah Miller, and Peter Larkin for the next episode of Guild Chat. Learn all about the new Deepstone fractal!
If you need help converting times into your own time zone, you can use this tool. Thanks for watching!