New Springer Mount Skin: Summit Chevon
Although its massive horns may look intimidating, the graceful Summit Chevon will carry you gently up and over the steepest mountain ranges.* You can use this skin to change the appearance of your springer mount across your entire account.
Sandshark Finisher
Your enemies might think they're safe from sandsharks in the Forest of Niflhel or Alpine Borderlands. Won't they be surprised?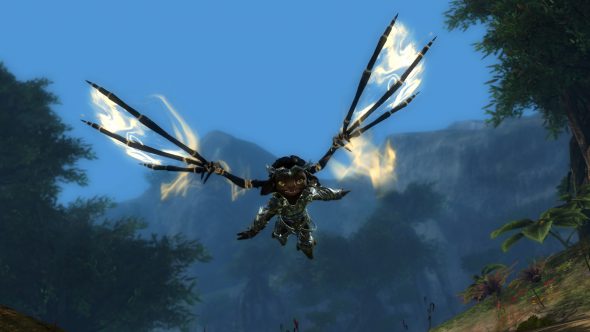 Returning Today—Vine-Touched Destroyer Glider Combo
Who doesn't want to look like a horrible amalgamation of Elder Dragon magic? We recommend staying clear of Taimi's lab while wearing the Vine-Touched Destroyer Wings. If things get tense, escape on your Vine-Touched Destroyer Glider.
It's the last week to pick up the Glacial Glider, Winter Monarch Outfit, Butterfly Harvesting Flute, Firefly Mining Flute, and Swarm Logging Flute before we put them back into storage.
On January 19, the Aetherblade armor skins will be available for seven days at 20% off.
*Within reason.