We've partnered up with some our fans to showcase their creative and exciting Guild Wars 2-inspired content on the official Guild Wars 2 Twitch channel. Check out next week's schedule below!
Streams for the Week of April 17
Tuesday, April 18
Peachy Party (by AuroraPeachy) (English)
10:00 AM Pacific Time (UTC-7)
Play, discuss and learn all about Guild Wars 2 with AuroraPeachy and her knowledgeable and friendly community!
Wednesday, April 19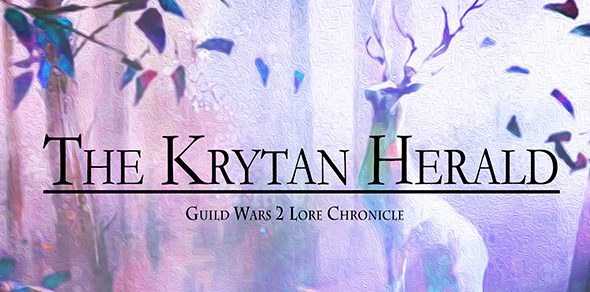 The Krytan Herald (by The Krytan Herald) (English)
Noon PM Pacific Time (UTC-7)
The Krytan Herald illuminates the history of the Shining Blade, shedding light on one of Tyria's most mysterious organizations.
Community Showcase Live (by ArenaNet)(English)
12:07 PM Pacific Time (UTC-7)
Gaile Gray presents community creations. Feeling inspired? Want a chance to be featured on the show yourself? Hop on over to Tumblr and submit your work.
Saturday, April 22
Weekend Chillstream with Shadiz (by Shadiz_live) (English)
8:00 AM Pacific Time (UTC-7)
Join Shadiz for a chill session of sPvP and/or Fractals fun!
If you need help converting times into your own time zone, you can use this tool. Thank you for watching!