Beginning November 21, 2016
Travel to the northern Shiverpeaks, explore the noxious Nightmare Fractal, and make a legendary new friend in Episode 3 of Living World Season 3, A Crack in the Ice!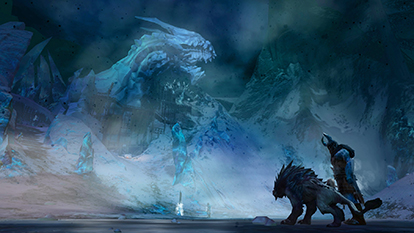 A Crack in the Ice
Taimi believes that her research will lead to new insights about the Elder Dragons. Find out if any chilling discoveries await you in the Shiverpeaks as you venture closer to the Elder Dragon Jormag's territory.
Nightmare Fractal
Bad dreams and harsh reality collide in the Fractals of the Mists, where the Mysterious Asura has a new challenge for you to survive—if you're up to the task.
And More
* Quality-of-life updates for World vs. World
* Build the new legendary shield, Shooshadoo!