Beginning December 15th
Bells are ringing, snowballs are flying, and Toymaster Tixx's fantastic golem-shaped airship hovers over the city of Divinity's Reach. Celebrate the traditional Tyrian holiday of Wintersday with us through January 4!
The Wondrous Workshop
Rebellious toys and sneaky skritt are threatening the workflow inside Tixx's Infinirarium. Bring your friends along on a trip to the workshop and put an end to the chaos.
Wintersday Fun
Leap from snowflake to snowflake in the Winter Wonderland jumping puzzle, join the Bell Choir to ring in the season, use strategy to defend gift-bearing dolyaks in Toypocalypse, and defend—or steal—presents from a rival team in Snowball Mayhem.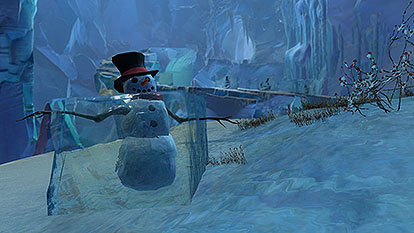 The Secret Lair of the Snowmen
Descend into the icy heart of these usually jolly folks' domain in this special Wintersday strike mission. Join the public version or gather a squad of your friends.
Toys and Treasures
Earn a sleigh load of rewards by participating in the festivities, spreading cheer, opening Wintersday Gifts, and giving presents to orphans in Divinity's Reach.